Every time we make a change to our site we like to add an update to let you all know what's happening, so be sure to check back here often to catch up on the latest Daylight Pets news.

Updates for Apr 1st, 2015:

Move over, Bluster!






Mingle has finally returned, and with it, several items have entered the marketplace.








While the shops are stocked with Mingle, the Bluster items have been taken down until next year.


Updates for Mar 17th, 2015:
Luck O' the Irish..


In celebration of St. Patrick's day, Hyacinth has created two lovely items.






Celtic Harp and Shamrock Cookie are now stocking in the marketplace.







This luna is being re-released in the ration for a limited time, so head on down and grab one there! 


Updates for Mar 10th, 2015:
These mighty fine bovines


Thanks to Hyacinth, herds of Mukkows have populated some of the clear fields!








You can find the Spotted Mukkow waiting for you in the rations; the others can be found in the Luna Adoption Agency!


Updates for Mar 4th, 2015:
More Items changed!


Hyacinth has redrawn more items!





The recreated Potion of Ultimate Destruction, Ticor and Blue Maltese Ticor are still found in their usual places.


Updates for Mar 2nd, 2015:
A night in a swamp


Unleash the shaman within you, by wearing this Red Tooth Necklace, which was created by Hyacinth!





This special piece of jewelry can be found buried in a ration! Just be aware that the ability to summon a forest monster is not an outcome from donning this necklace.

Additionally, the Valentines Day items have been retired from their respective shops - which is a good thing; those Valendinos were causing stress upon some of the other Lunas!


Updates for Feb 25th, 2015:
Change in Premium Package



There has been a change in the Premium package! Now, at the same price of $4, Premium users will receive a Blazing Ribbon instead of a Festive Ribbon, and swapped Kitiflora for a Snowpie!






Upon activation of a premium membership, you get 50,000 DP, 1,000 XP, one very special, pose-changing ribbon for your pet, a premium-exclusive Luna and avatar, increased bank interest, color on your username and an INSANE discount on marketplace items!
Oh, and there's more! You are also able to access the premium shop and adopt a Cain, Somnis, and an IguIgu! Plus, you get to navigate the world of Daylightpets without those annoying ads!



Accounts Recovery Reminder

This is a notice for returning members unnable to get new password due to forgotten emails that signed up with on registration.There have been questions regarding this issue, if you have an account and no longer have email you signed up with. The only way I can help is by changing the email for you, you need contact to: adminsupport@daylightpets.com
Also I would like to advise to all regular members to check their emails on profile/account settings via the menu tab and update if neccesary. Thank you.


Updates for Feb 20th, 2015:
Battle Tournament Results


This time has come to announce the winner of the battle tournament.

Congratulations to Matt, who won a grand prize of Gold Battle Trophy, 500,000dp and one month of premium membership.
Well done and thank you to everyone who entered in the contest, few qualified participants will receive a Thornblade.



Updates for Feb 17th, 2015:
Nibble, nibble


The Organic Food shop is stocked with two new items, thanks to Cypher and Hyacinth!






But don't count Kouren out, yet! The normal food shop has received redrawn versions of cheese too, from Hyacinth!










If you didn't spot it yet, the Bluster Cheese Wedge and Nebula Cheese Wedge are now available for purchase in the marketplace!


Updates for Feb 13th, 2015:
Love and Hearts


Hyacinth has created lovely Valentine items. Who could resist that adorable mouse!







Stego Valendino, Valentine Mouse Plush, and Book of Love are now stocking in the marketplace.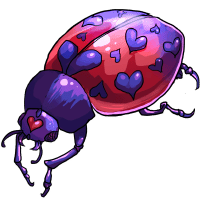 A recreated Lovebug have made appearance in the battle center and will be around for limited time.


Updates for Feb 11th, 2015:
A team of avatars


The redraw of the battle opponents has warranted redraws (and some new additions) of their avatars!








Each of these can be obtained following your first successful defeating of the respective battle opponent. The Kitten, Centurion and Volk avatars were created by Hyacinth, with the Hakkim avatar provided by DJ. You will have to defeat both Hakkim and Volk to obtain the new avatars - but if you defeated either the Kitten or Centurion before, you would have gotten one already.

But don't put your avatar collection away, yet! There's still one more for you to nab, another by Hyacinth, in the rations!